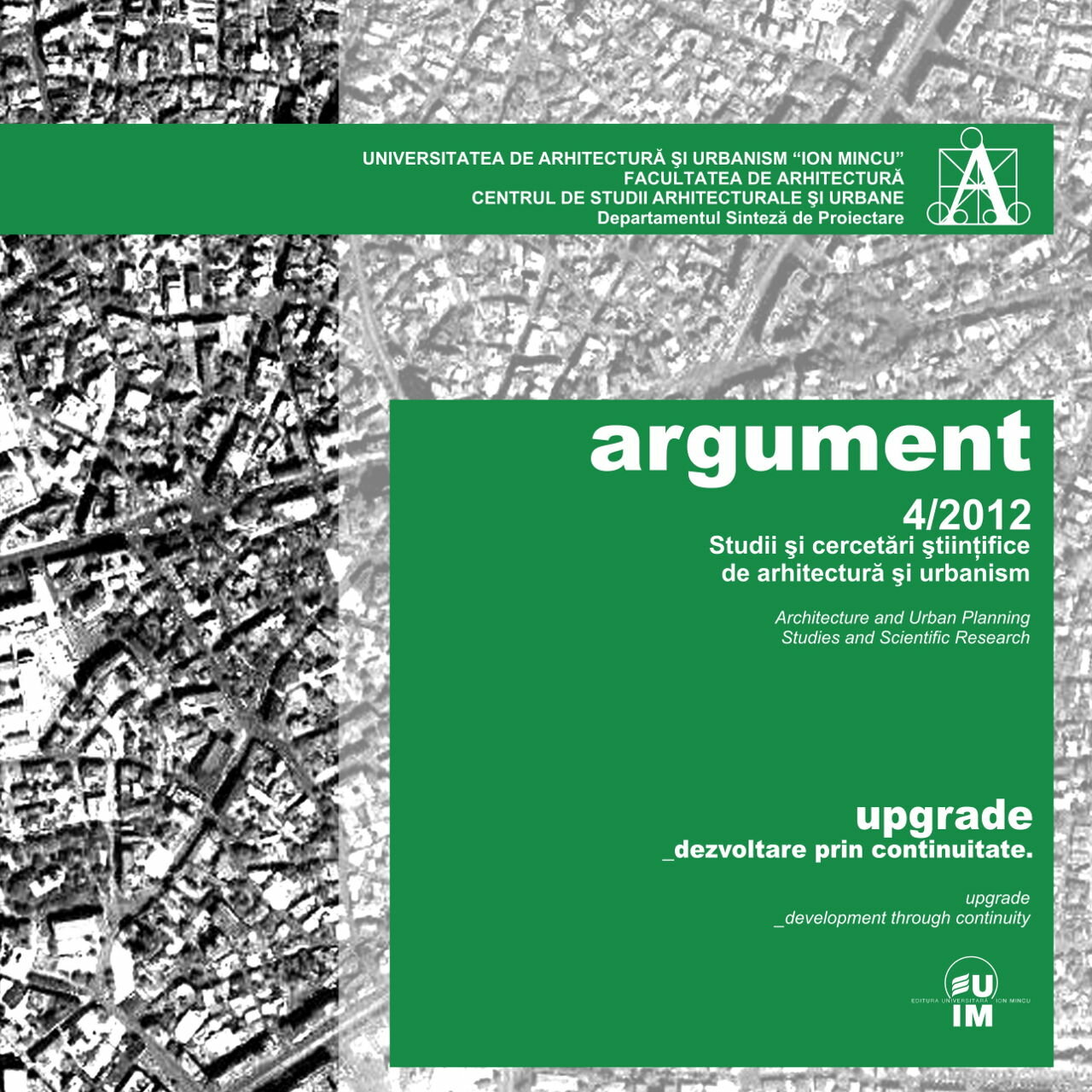 Argument 4/2012
UPGRADE – development through continuity
Coordinator:

Prof.dr.arh. Daniela Rădulescu - Andronic

Cover:

Lect.dr.arh. Marina Mihăilă

Graphics:

des. Roland Vasiliu

DTP, editing, translations:

arh. Maria Mănescu
© 2012 Editura Universitară "Ion Mincu" Bucureşti
1. UPGRADE – Learning
Cosmin Caciuc
Kenneth Frampton vs. Neil Leach: continuity and discontinuity in tectonic culture development
Ana-Alice Finichiu, Jean-Marc Sterno
Methodes
Anca Mihaela Constantin, Livio Dumitriu
Studies and applications_UPGRADE_Pratt Institute NY
Andra Panait
Three architects, three methods - A comparative analysis
Daniel Comșa
Venice Architecture Bienalle development through continuity / Upgrade on space enevelopment problematics
2. UPGRADE – Urban Remodeling
Bojan Karanakov, Ognen Marina
Un upgraded urban bridge
Bogdan Fezi
Bucharest in search for Europe
Niculae Grama, Robert Negru
Borsec – a bitter memory
Lorin Niculae
Social housing in extreme poverty
Daniel Comșa, Irina Elena Mereoiu
World Expos - solutions for the regeneration of portuary areas?
Alexandru-Ionuț Petrișor
Redefining Urban Regeneration
Maria Boștenaru Dan
Participatism and disaster management
3. UPGRADE – Spatial Concepts
Cristina Enache
Identity. Restructuring. Landscape
Mihaela Pelteacu
New approaches of the architectural project: fascination of porosity
Mihaela Zamfir (Grigorescu)
Upgrade in relation to public space today – considerations regarding the response of the architecture to the community problems-
Magdalena Stănculescu
Revitalization of an area by insertion of a functional element from the cultural domain - theatre as a building or as an open-air place suitable for dramatical spectacle.
4. UPGRADE – Urban Memory
Marina Mihăilă
Urban memory. Continuity
Maria Boștenaru Dan
Rudolf Frankel in Bucharest, 110 years after birth
Mihaela Zamfir (Grigorescu)
Upgrade in relation to Lipscani. Local identity between cultural value and value of utilization
Cristia Chira
Types of interventions on historical buildings
Andreea Neacșu
The continuity of the mosaic art in the Byzantine churches
Ioan Miloș
Upgrade with "fascist" traces in the reunification's Berlin
5. UPGRADE – Technology
Vlad Thiery
Conservation of the plaster facades from late XIX to the begening of XX century
Ștefan Mihăilescu
Sustainability: reducing energy costs in the case of existing buildings
Veronica Zybaczynski
Color in rehabilitation. Methods of investigation and intervention. Examples of chromatic rehabilitation.
Adrian Vidrașcu
Limit and Continuity in the Sustainable Urban Development