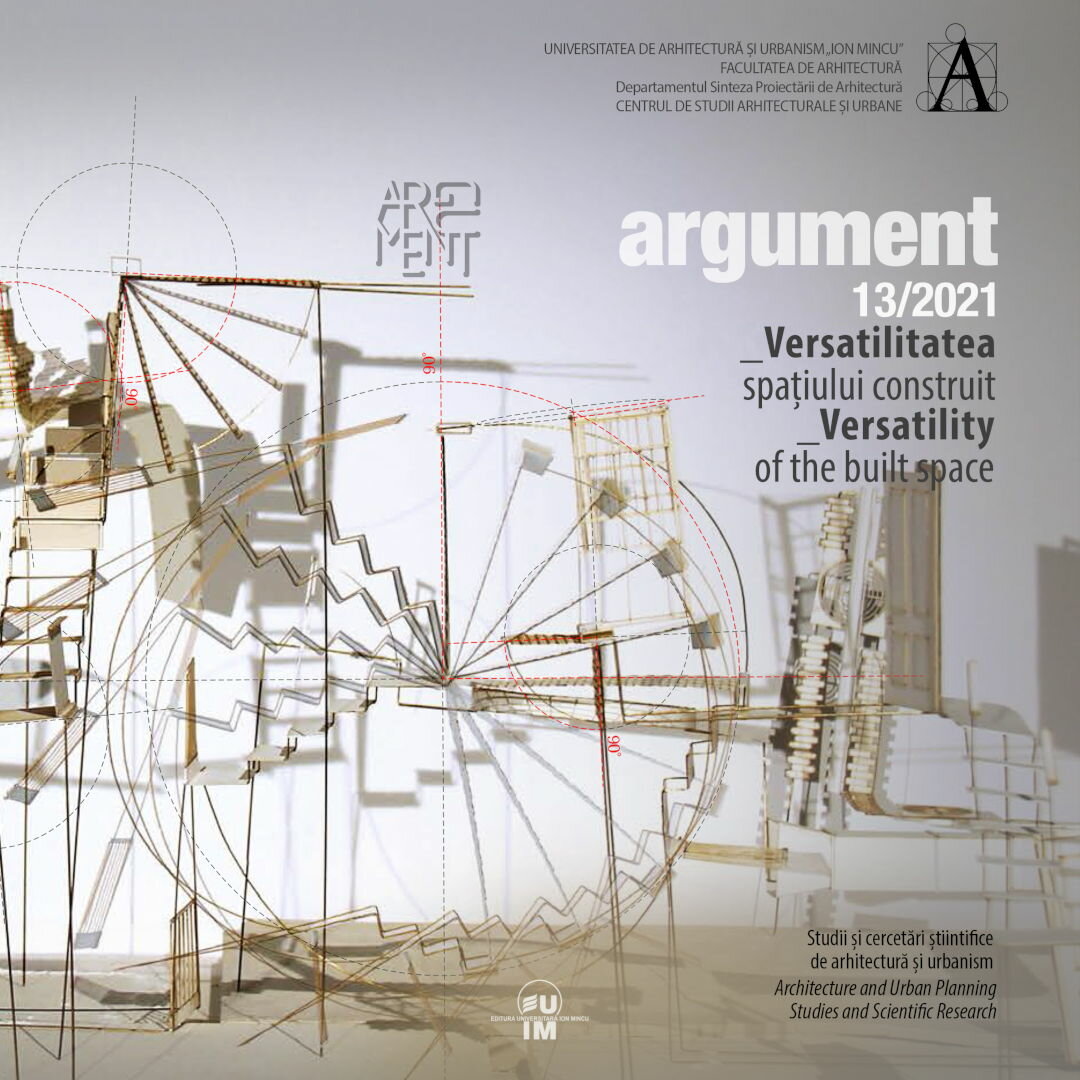 Argument 13/2021
Versatility of the built space
https://doi.org/10.54508/Argument.13
Publishing director:

Anca MITRACHE, prof. PhD. arch.

General secretary of the editorial office:

Anda-Ioana SFINTEȘ, assist. PhD. arch.

Editing team:

Constanța Carmina GHEORGHIȚĂ, assist. PhD. arch., Iris GANEA-CHRISTU, PhD. arch., Ruxandra PĂDURARU, PhD.c. antropology, Ruxandra BALCANU, arch.

Cover:

Matei MITRACHE, arch., Oana Anca ABĂLARU OBANCEA, assist. PhD. arch.
© 2021 Editura Universitară "Ion Mincu" Bucureşti
0. Foreword
Anca Mitrache
Versatility and the Built Space
1. Pandemic - Postpandemic - Resilience
Mihaela Zamfir, Ileana Ciobanu, Andreea Georgiana Marin, Mihai-Viorel Zamfir
Memory Anchors in Dementia-Friendly Architecture and the Limits of Spatial Versatility in the Context of the Covid-19 Pandemic
Ioana Virginia Craiovan
Face to Face in the Built Space: Koch's Bacillus, Influenza Viruses and Coronaviruses. Architectural Design versus Transmissible Respiratory Disease
Codruța Iana
Pandemic Heterotopias. Rediscovering the Home
2. Adaptations - Adaptability
Beatrice-Gabriela Jöger
Textile Space – Versatile Space
Codina Dușoiu
Transformation of Architectural Space – between Challenge and Limit
Ionuț Dohotariu
Adaptive architecture. Interaction with the built environment
Călin Crudu
LIMITLESS – Generative Design
Miguel Gomes, Pedro Mendes
Models as a Privileged Element in Architecture Exhibitions. Two Study Cases
3. Urban Context - Public Context
Andra Panait, Elena Cristina Mândrescu, Traian Colțan
The Versatility of Public Space. The Historical Center of Bucharest
Ana-Maria Machedon, Georgică Mitrache, Dragoș Dordea
Living Danube Limes - The Built Space as Tool for Living History
Tetyana Kashchenko, Viktoria Bonchyk
Renovated Industrial Complexes in the Urban Environment
Nely Vînău, Răzvan Mircea Nica
Urban Context. Visual Communication. Graffiti as a Manifestation of Heterotopia
Ana-Maria Vesa-Dobre
FORM +/- FUNCTION. A Spatial Inquiry on Per Kirkeby's Architectural Sculptures
Miruna Ciura
Constructive Encounters in the City. Constitución, Chile — Open City?
4. Versatile Habitation - Other Habitations
Oana Frunză
The Plus Space, Versatility as Spatial Ambiguity, a Trigger for Creativity
Ramona Costea, Tiberiu Teodor - Stanciu
Balcon-viviality
Cristina Șopîrleanu
The Space of the Urban Dwelling - a New Paradigm. The Potential of the Traditional Urban Fabric to Adapt to a New Way of Dwelling
Iulia Gabriela Drăghici
Inhabited Bridges. Infrastructure and Architecture
Cristia Chira, Mihaela Lazăr, Marilena Negulescu
Interior Architecture and Film Scenography. Theoretical Direction of Aproach to the Interior Space
Anamaria-Cristina Preotesoiu
Staring. Or Retreating into Inner Space
5. Students Page
Silvia-Georgiana Pușcașu
The Urban Block as Morpheme. Insertions on Calea Moșilor
Andre Magpantay
Revolution. Contextual Image Analysis and Characterization of Post-Pandemic Architectural Style and Design
6. Reviews
Ruxandra Păduraru
/We Sit And Think – A Manifesto Event. A Dialogue on the Necessity of Public Spaces in Bucharest
Arthur Patrick O'Looney
Review of "Learning from the European City" by Jonathan Sergison (Sergison Bates Architects)
Maria Boştenaru Dan
Conference Review - The Academy as a Mirror of Change: 125 Years of Arts and Humanities
Reviewers:
ARG13_reviewers.pdf