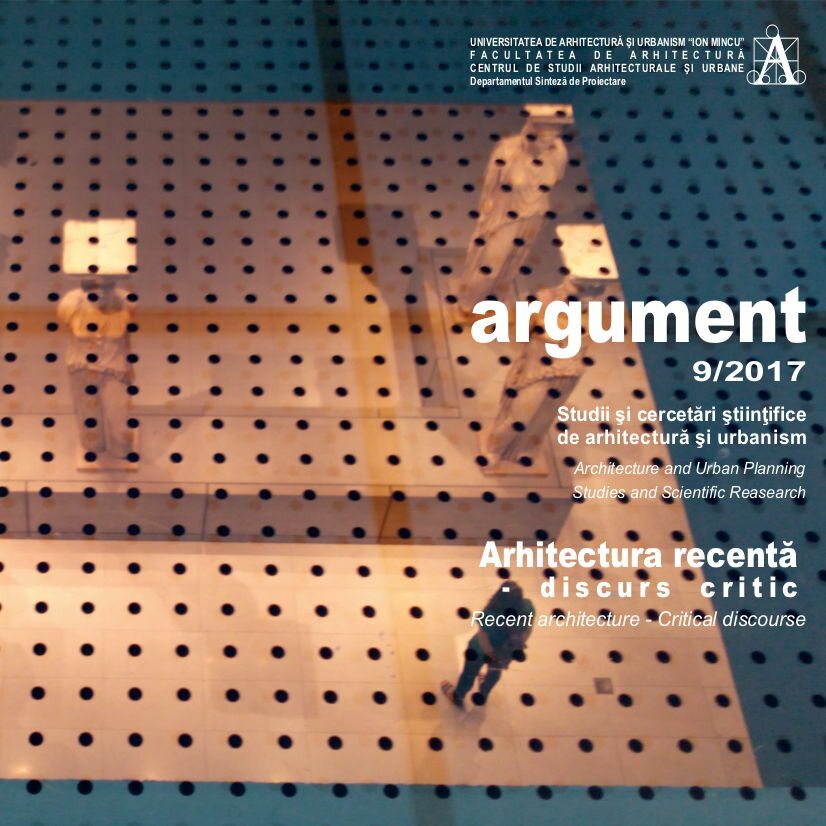 Argument 9/2017
Recent Architecture – A Critical Discourse
Coordinator:

Prof.dr.arh. Daniela Rădulescu - Andronic

Cover:

dr. arh. Alexandra Păcescu

Graphics:

Roland Vasiliu

DTP, editing:

arch. Maria Mănescu
© 2017 Editura Universitară "Ion Mincu" Bucureşti
The new issue of the publication "ARGUMENT"- No. 9/2017 will publish studies, research papers or architectural projects presented in the interdisciplinary scientific session, entitled: "RECENT ARCHITECTURE – a critical discourse" – held on May 20-21st, 2016.
Essentially, the succession of the themes approached by our publication in not random, or at least that's what we assert, till now.
Getting close to an eventually representative number – no. 10, – we wish that the meaning of the publication title, namely "ARGUMENT" – would frame part of the ideas/concepts of the editorial team, structural "arguments" for redefining the new architectural models, in line with the society/the technology and in accordance with the vision of the educational system.
In this regard, the 7th and 8th numbers referred to issues of high performance or dominated by indecision in:
"RESEARCH BY DESIGN" and
"ARCHITECTURAL EDUCATION".
The current number – "RECENT ARCHITECTURE – a critical discourse" – wishes to identify to what extent the architectural studies and research find their finality in the design of the spaces that form the existing urban environment.
The papers have been organized in the following chapters: – Concept, – Context, – Time/History/Archeology, – Urban structures/The Development of Cities, – Social Architecture, – Composition/Configuration/Innovation, – Design – Evolution, - Students' Opinion.
1. Concept
2. Context
3. Time/History/Archeology
4. Urban Structures/The Development of Cities
5. Social Architecture
6. Composition/Configuration/Innovation
7. Design – Evolution
8. Students' Opinion