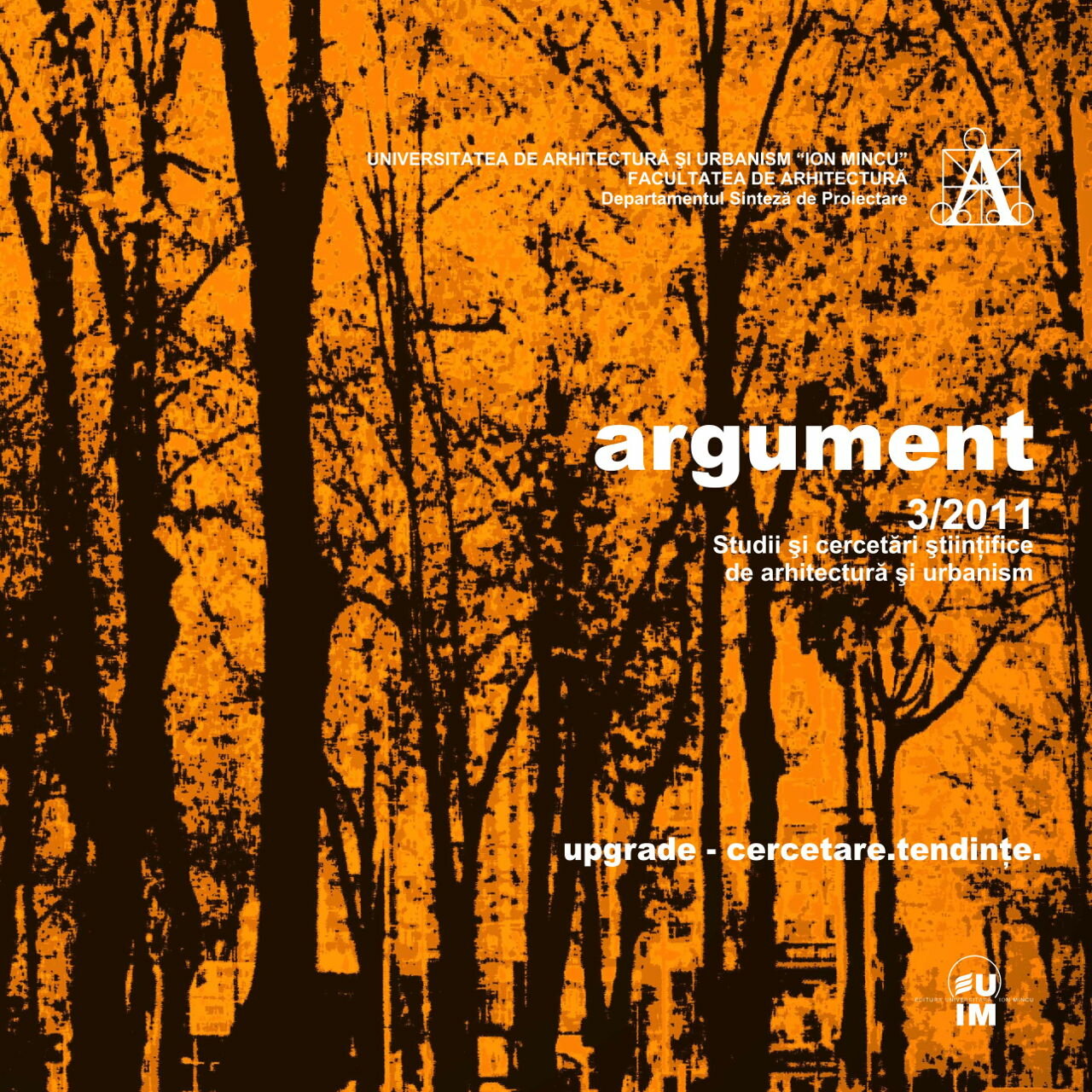 Argument 3/2011
UPGRADE – Research. Trends
Coordinator:

Prof.dr.arh. Daniela Rădulescu - Andronic

Cover:

Lect.dr.arh. Marina Mihăilă

Graphics:

des. Roland Vasiliu

DTP, editing, translations:

arh. Maria Mănescu
© 2011 Editura Universitară "Ion Mincu" Bucureşti
1.
Georgică Mitrache
BUILT HERITAGE VALUES AND CONTEMPORARY ARCHITECTURE – debate subject proposal
Florin Biciușcă
A couple of words concerning the debate
2.
Anda-Ioana Sfinteș
traditional forms of representation - continuity, exploitation, reinterpretation
Mihaela Staicu
Private interventions of up-grading.
Mihai Viorel Zamfir
Reconsideration of senior centers. Perspective of the geriatrician.
Cristian Bănică
Urban transformers _ A case study on urban transformation. Bucharest between two worlds and the forces shaping the city
3.
Horia Dinulescu
The inter-war architecture – from tradition to avantgarde
Liviu Gabriel Ghițuleasa
The railway station — built heritage and cultural significance
4.
Florian Stanciu
How are we doing in space?
Cristina Constantin
In things you see eyes that look at you. Pedagogical experiment - analysis based on deprivation
Maria Icoana Săbăilă Pavlovici
Identity of models in Luxembourg - Mosellei Valley and Banat as cultural landscape
Codruța Iana
Tadao Ando'S minimalism, continuing the traditional japanese zen philosophy
Ana Maria Crișan
Reassessment of ancient models. Surface-Interface. Discourse on visual connections - With reference to the central Anatolian cultural
Iulia Maria Delcea
The need to reconsider the european balneological heritage - two case studies: development by continuity, Bath, United Kingdom/ San Pellegrino, Italy -
Alexandru Crișan
Vertically mix in the compact city
Adrian Moleavin
Bioclimatic adaptation of the traditional Romanian home
Sergiu-Cătălin Petrea
Architecture of emergency situations
5.
Alexandru Buzatu, Rareș Drăgoiu
Microinterventions